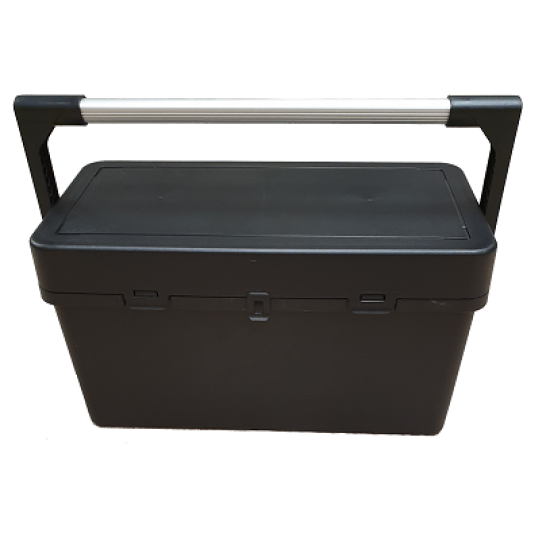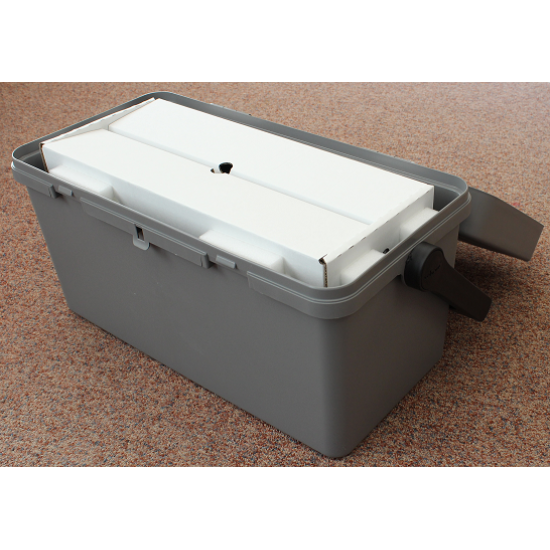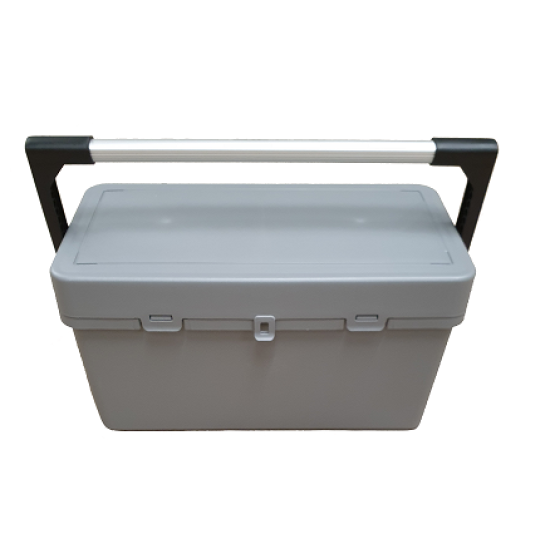 Easy to Carry Card Storage Box
Perfect for Storing, Carrying and Transporting Metal Name Badge Trays - Only £40 - Cheaper if added to a bundle!
Our easy to carry case can fit up to 3 Metal Name Badge Trays - making it easier than ever to transport name badges from different locations!
ID Card Storage Box Carry Case Specs
Made in the UK
Made from 100% recycled plastic
Resists high impact damage - durable and strong, even in cold temperatures
Snap shut lid securable with a padlock - ensure no badges go missing!
Fits up to 3 Metal Name Badge Trays - up to 180 badges
Handle locks in place once picked up - prevents the chance of badges getting loose
Available in black or grey
Why Buy a Carry Case for Metal Name Badge Trays?
A Carry Case for Metal Name Badge Trays can fit up to 3 Metal Name Badge Trays (up to 180 badges). The carry case is made with the environment in mind - by being made in the UK, the travel time is reduced and thus fewer greenhouse gases are produced from transportation. The case is also made from 100% recycled plastic such as car bumpers, crates or bottle caps, ensuring nothing has gone to waste.
At an event with multiple entrances and exit points, things can get confusing. By pre-printing your guest passes, you can organise them alphabetically with A-Z cards and issue your guests their passes quick and efficiently. An issue may arise should there be a guest pass missing due to it falling out of a badge tray. This is not just a potential GDPR data breach, but this can also cause disruption to your guests entering your event and an unneeded problem for your employees.
By using a lockable card carrying case, you are able to secure your badges once printed in a lockable carry case. This also allows ease of transportation to various locations within a building or between long distances.
---
About the Money Saving Bundle Products:
Add one of our money saving bundles to your basket and save money! 
Add the 3 x Cardboard Tray Boxes bundle for an extra £16.95 
Add the 3 x Cardboard Tray Boxes and Metal Name Badge Trays bundle and save nearly £20!
Add A-Z Cards and benefit from a discount! Normally £9.95, reduced to £7.95!
Metal Name Badge Tray

 

Strong, sturdy construction - re-use again and again!
Available in silver or black
Weighs less than 400g each!
Takes minutes to set up
Combine with A-Z cards to organise your badges
Each tray holds 60 badges
Keeps your desk tidy
Combine with the Cardboard Tray Box to hold your badges in the tray when in the carry case
Tray stacks easily in the carry case when in and not in use

Use the Metal Name Badge Tray to ensure your cards and name badges look professionally presented but it will also save you time in setting up.

 
Cardboard Tray Box

Exclusively available from ID Card Centre and created exclusively for the Metal Name Badge Tray. The Cardboard Tray Box has been created for the sole purpose of placing it on the Metal Name Badge Tray to hold the badges in place and allow the Metal Name Badge Trays to be stacked easily with badges in the name badge storage box. 
A-Z Cards

Colours available:

A to Z Cards are perfect badge organisers when combined with the Metal Name Badge Tray. If used effectively, the A to Z Cards can save you a huge amount of time and ensure there is no delay in locating a guest's name badge. Available in a wide range of colours, and also having the option of personalising the A to Z Cards with your own logo, it's almost a no brainer to have these handy organiser cards!

Matt black with white text
Glossy black with white text
White with black text
Blue with white text
Red with white text
Green with white text

Available in a wide range of colours
Text available in a wide range of colours
Available in a standard set with less common letter grouped together (JK, UV and XYZ)
Available in a 26 card set with each letter having its own card for £1 extra
Why Choose ID Card Centre?
At ID Card Centre, we genuinely care about our customers. Whether you're purchasing for the first time or one of our many long-standing clients. When purchasing with us, our guarantees to you are:
•    All in-stock orders when placed before 2:30pm will be shipped the same day.
•    We guarantee 100% satisfaction or your money back.
•    Price match guarantee on all our products.
Still unsure? Contact us today through our live chat or call us on 01604 422 422.
Please note that stock levels cannot be guaranteed, and you will be notified as soon as possible if your order contains any out-of-stock items. If your order is urgent, please call us to check stock levels before placing your order. 
   Delivery Promise   

Fast, Reliable, UK Next Working Day Delivery - free on web orders over £150!
All orders for stock items, received prior to 2.30pm, will be dispatched the same day. It may still be possible to dispatch orders after this time so if your order is urgent please call us to check.
Please note other than time-definite deliveries, shipments are generally delivered anytime between the hours of 9am and 6pm. Our couriers cannot schedule a specific delivery time within that window. Up to three delivery attempts will be made, excluding weekends and holidays.
Best Price Guarantee!
We endeavour to always offer the best possible prices to our customers.  Therefore if you've received a cheaper quote elsewhere, for exactly the same product or service, please let us know and if we can't beat it we'll price match it!
Buy with Confidence - 100% satisfaction guaranteed!
Our extensive product experience, honest advice and technical support along with our price match promise, low cost and fast delivery options and hassle free returns means we're sure you'll be more than satisfied with the service from ID Card Centre!
Flexible, secure payment options
We offer four secure payment options for all web orders.  
All Major Credit and Debit Cards including American Express
Bank Transfer
Invoice
PayPal
We offer several shipping services to worldwide locations: 
Standard Delivery
Guaranteed Next Day Delivery (by 6pm)
Guaranteed Pre-10.30am (next morning delivery by 10.30am)
Guaranteed Pre-12pm (next day by 12pm)
International Shipping
Please note that for all shipping services other than Standard Delivery, fees will be calculated at checkout.
If you need same day or weekend delivery we may be able to arrange this so please contact us before placing your order.
Returns
Find out more information about our returns policy.
Carry Case for Metal Name Badge Trays
Stock:

In Stock

Model:

59-1722

SKU:
Still Same Day Dispatch
Free UK shipping on web orders over £150
Expert Support
Rely on us for expert advice and support
Price Match Promise
Contact us if you have seen a cheaper price
Global Shipping
and tax calculator on checkout