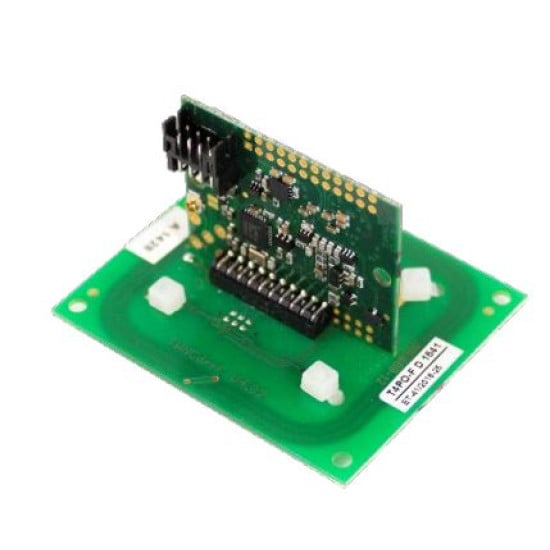 Elatec TWN4 MultiTech Panel LEGIC 42 PCB - Standard
Product Code: T4PO-B
ID Card Centre Code: 92-1261-PA-PB
Previous Product Codes: ART14385
About the Elatec TWN4 MultiTech Panel LEGIC 42 PCB - Standard
Core Module With Integrated 125kHz+13.56MHz antenna
Type: TWN4
Style: Panel
Connection: None
Option: Standard
Standards: ISO14443A, ISO14443B, ISO15693, SM4200M
This Elatec RFID reader will read the following frequencies: 125kHz, 13.56MHz
This Elatec RFID reader will read the following 13.56Mhz technologies: HID iCLASS Seos/Seos Elite, MIFARE® Classic, MIFARE® Classic EV1, MIFARE® Mini, MIFARE® DESFire EV1, MIFARE® DESFire EV2, MIFARE® Plus S, X, MIFARE® Pro X, MIFARE® Smart MX, MIFARE® Ultralight, MIFARE® Ultralight C, MIFARE® Ultralight EV1, NTAG2xx, PayPass, SLE44R35, SLE66Rxx (my-d move), Topaz, Calypso, Calypso Innovatron protocol, CEPAS, CTS, Moneo, Pico Pass, SRI4K, SRIX4K, SRI512, SRT512, NFC Forum Tag Type 1-5, Sony FeliCa, EM4x33, EM4x35, HID iCLASS, HID iCLASS SE/SR/Elite, ICODE SLI, LEGIC Advant, M24LR16/64, Pico Pass, SRF55Vxx (my-d vicinity), Tag-it, LEGIC Prime
This Elatec RFID reader will read the following 125KhZ technologies: AWID, Cardax, CASI-RUSCO, Deister, EM4100/4102/4200, EM4050/4150/4450/4550, EM4305, FDX-B/EM4105, HITAG 1/2/S, ICT, IDTECK, ISONAS, Keri, Miro, Nedap, PAC, Paxton Net 2, Pyramid, Q5, T5557/T5567/T5577, TIRIS/HDX, TITAN (EM4050), UNIQUE, ZODIAC
Elatec offer an extensive range of products which are almost assured to meet your requirements with LF/HF card technologies. Being able to read over 60 different card technologies enables the TWN4 range of products to be flexible yet robust as a product.
Applications for these readers include: Parking; EV Chargers; Ticket POS; Vending; PC Login, Mobility; Fitness Equipment; Driver ID; Access Control; Elevators; Library book management; Time & Attendance; Document Management; Health Care; Gaming; Locker lock – the only real limit is your imagination!
The TWN4 range of reader has a huge amount of configurability enabling you to read over 60 different technologies concurrently and to adjust the output by utilising the Appblaster software – this gives you complete control over what cards you wish to read and how the output is configured.
Special Features:
Powerful SDK for writing Apps which are executed directly on the reader
Infield Upgradeable
Direct chip-commands support
Power down mode for lowest power consumption
Two onboard SAM sockets (Secure Access Module)
CCID and PC/SC 2.01
Additional interfaces for OEM PCB version
I²C, SPI, Clock/Data, Wiegand, CAN
Dedicated expansion bus for connection of LCD, mass storage, etc.
8 GPIOs
Worldwide certifications:
WEEE, RoHS, R&TTE, CE (Europe), FCC (USA), IC (Canada), ACA (Australia / New Zealand), VCCI (Japan), KCC (Korea), ANATEL (Brazil), CFT (Mexico)
All copyrights are registered trademarks and are used under license.
Why Choose ID Card Centre?
At ID Card Centre, we genuinely care about our customers. Whether you're purchasing for the first time or one of our many long-standing clients. When purchasing with us, our guarantees to you are:
•    All in-stock orders when placed before 2:30pm will be shipped the same day.
•    We guarantee 100% satisfaction or your money back.
•    Price match guarantee on all our products.
Still unsure? Contact us today through our live chat or call us on 01604 422 422.
Please note that stock levels cannot be guaranteed, and you will be notified as soon as possible if your order contains any out-of-stock items. If your order is urgent, please call us to check stock levels before placing your order. 
   Delivery Promise   

Fast, Reliable, UK Next Working Day Delivery - free on web orders over £150!
All orders for stock items, received prior to 2.30pm, will be dispatched the same day. It may still be possible to dispatch orders after this time so if your order is urgent please call us to check.
Please note other than time-definite deliveries, shipments are generally delivered anytime between the hours of 9am and 6pm. Our couriers cannot schedule a specific delivery time within that window. Up to three delivery attempts will be made, excluding weekends and holidays.
Best Price Guarantee!
We endeavour to always offer the best possible prices to our customers.  Therefore if you've received a cheaper quote elsewhere, for exactly the same product or service, please let us know and if we can't beat it we'll price match it!
Buy with Confidence - 100% satisfaction guaranteed!
Our extensive product experience, honest advice and technical support along with our price match promise, low cost and fast delivery options and hassle free returns means we're sure you'll be more than satisfied with the service from ID Card Centre!
Flexible, secure payment options
We offer four secure payment options for all web orders.  
All Major Credit and Debit Cards including American Express
Bank Transfer
Invoice
PayPal
We offer several shipping services to worldwide locations: 
Standard Delivery
Guaranteed Next Day Delivery (by 6pm)
Guaranteed Pre-10.30am (next morning delivery by 10.30am)
Guaranteed Pre-12pm (next day by 12pm)
International Shipping
Please note that for all shipping services other than Standard Delivery, fees will be calculated at checkout.
If you need same day or weekend delivery we may be able to arrange this so please contact us before placing your order.
Returns
Find out more information about our returns policy.
Showing 1 to 2 of 2 (1 Pages)
Elatec TWN4 MultiTech Panel LEGIC 42 PCB | T4PO-B
Still Same Day Dispatch
Free UK shipping on web orders over £150
Expert Support
Rely on us for expert advice and support
Price Match Promise
Contact us if you have seen a cheaper price
Global Shipping
and tax calculator on checkout