We pride ourselves on being one of the leading suppliers in the industry for everything required for name badge and on site ID card printing.
Whether you print a few hundred or a few hundred thousand cards, we can supply everything you need for the job.
The majority of our items are kept in stock and are therefore available for immediate dispatch. All orders placed by 4pm will be sent the same day for next working day delivery.

We stock a wide range of printers from top manufacturers including: Evolis, Magicard, IDP, Fargo, Datacard and Zebra.
There are many factors to consider when choosing the right printer for you for example are you producing single or double sided badges, how quickly do you need each badge to print, does the printer need to be easily transportable and therefore lightweight and complete with its own carry case, what are the ongoing costs of the consumables?
You can either use our website to view the different features of each printer or give us a call on 01604 422422 and we will talk you through the best options for your specific requirements.
All printers come with manufacturer's warranty as standard and we offer on-site installation and additional warranty should you require it.
If you just need a printer for a one off print run or an event then we also offer printer hire, on a week by week basis.
We only stock genuine manufacturer ribbons. Please visit our printer ribbons page, which is pre-sorted by printer and ribbon type to help you find the correct ribbon for you.
If you cannot see the ribbon you require please contact us.
Please note that we do not condone the use of grey import ribbons and the use of such ribbons will invalidate your warranty.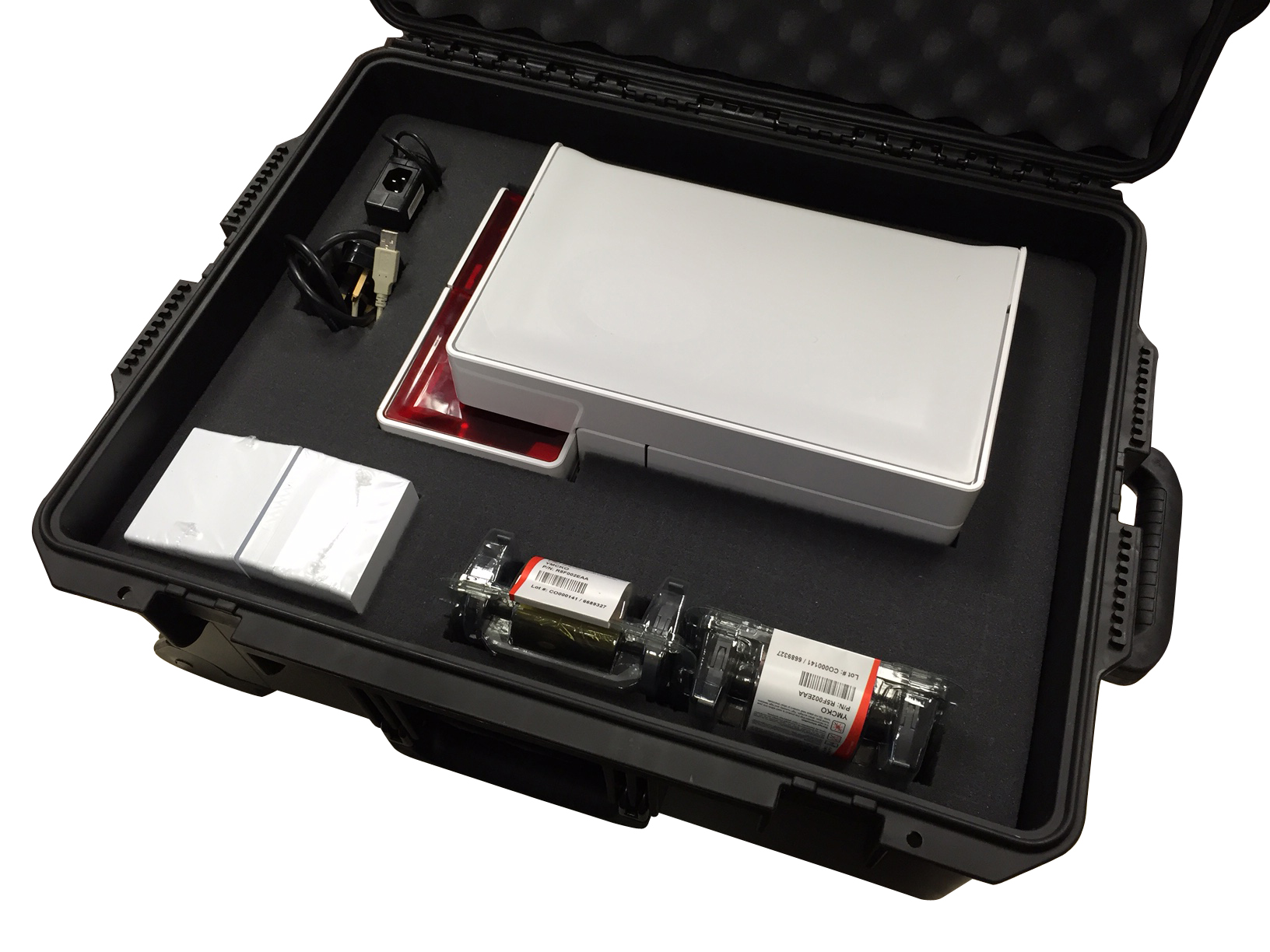 In addition to the printers we have everything you may need to keep them running smoothly. From cleaning kits, pens, card and rollers to carry cases and custom made flight cases.
We also have lots of space parts, including replacement printheads and optional extras to upgrade your printer such as encoders, and single to double sided printing upgrade kits.
Once you have the printer you'll need the cards to print on!
All of our plain cards are Fotodek to ensure a consistent, high quality print each time. We have a range of colours in white and solid core, including fluorescent, matt black 'chalkboard' effect and holographic.
If you need technology cards then we supply HID, Paxton, PAC, TDSi and Cotag as standard. If you want to make your existing cards or badges 'intelligent' then we also supply MIFARE® stickers that attach to your existing cards.

This covers everything you may need to carry or display your ID cards, including badge reels, clips, card holders, chains, pouches, card racks and cases.
We supply lanyards in a variety of widths and colours as stock items or we can do full personalisation, in as little as 48 hours.
We have various options available for designing and producing your IDcards and badges including CardExchange, CardPresso and eMedia. Features include database connectivity,contact and contactless encoding, multiple card templates and flexible and intuitive designs.
For visitor management, Semieta is a simple and effective visitor management system. It's flexible and efficient to us, offers multi-site functionality and produces instant muster reports.
We are the only ID Card supplier in the industry that offer Waste Disposal!
ID Card Centre - Access Control Cards - Access Control Fobs - Badge Reels - Colour ID Cards - Elatec Card Readers - HID Card Readers - ID Card Clips - ID Card Holders - ID Card Printer Bundles - ID Card Printer Rentals - ID Card Printer Ribbons - ID Card Printers - ID Card Printheads - ID Card Printing - ID Card Software Solutions - ID Cards - ID Printer Flight Cases - Lanyards - MIFARE Cards - Name Badges - Plain White ID Cards - Printed Lanyards - Printer Cleaning Kits
Tel: 01604 422422 Email: sales@idcardcentre.co.uk