Fully Personalised Lanyards

Custom Lanyards
Personalised lanyards are the perfect choice for organisations who care about their image. With a huge choice of materials and widths available we can be sure to come up with a design that perfectly reflects your brand.
With order quantities starting from just 100 pieces, they are also a more affordable option that you might have thought.
The two most popular print options for personalised lanyards are screen printed or dye-sublimation polyester.
Screen Printed Economy Lanyards
Screen printed is the most cost effective option. A polyester lanyard, available in 4 widths – 10mm, 15mm, 20mm and 25mm is Pantone matched to your chosen colour. The design is then screen printed on to the lanyard in either a 1, 2, 3 or full colour process, depending on the design required. Screen printing is not suitable for highly intricate or detailed designs but works well for block text and logos. It is possible to print on just one or both sides of the lanyard.
Dye Sublimation Premium Lanyards
Dye sublimation lanyards give a Premium finish. A full colour, two sided print on to a smooth polyester lanyard, available in 3 widths - 10mm, 15mm or 20mm, dye sublimation is ideal for detailed or intricate designs.
Eco Lanyards
We offer a range of eco friendly lanyards made from materials such as bamboo, recycled PET (old plastic bottles) and plant silk.
Something Extra Special
If you're looking for something extra special such as a woven design, or silk applique or simply a combination that you`ve not managed to find on our website then we can cater for this too. Please complete our quotation request form and we'll get back to you within 24 hours with a quotation.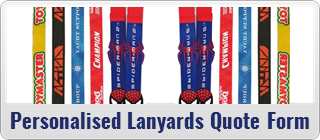 About our Personalised Lanyards:
Fully customised to your design
Enhances brand awareness
Pantone matching available
1 or 2 sided print
Range of lanyard widths available
Durable and comfortable to wear
Health & safety breakaway fitted as standard – extras available on request!
Range of fittings available
Minimum order quantity of just 100 lanyards
Bulk discounts available
3 or 5 day express service available
Our standard service is 15-20 working days delivery but we do offer two express options of 3 and 5 working days. Our express service is only available for dye-sublimation lanyards.
If you'd like to discuss the options available in more detail then please contact one of our advisors on 01604 422422 or by email at [email protected].
Recycling
What do you do once you no longer need your lanyards? ID Card Centre offers a safe and secure recycling service for all of your lanyards that you no longer need. By using our recycling service, you will also earn money off your next order!
If you do not wish to use our safe and secure recycling service, we recommend using Terracycle's Zero-Waste Box for recycling any name badges, vinyl wallets or lanyards when you no longer require them. The Zero-Waste Box allows you to collect and recycle easily with a pre-paid return label on the box once it has been filled.