Laptop with CardExchange™ Ultimate for use with ID Card Printer - 7 Day Rental
If your job is time sensitive or you don't have time to set up a badge design in CardExchange™ then we can supply you with a laptop, already loaded with your card design, so you just need to plug in the printer, load your data and start printing.
Using our rental printer also means you don't have to worry about installing printer drivers and card management software on your own computer or laptop, a process that can be especially time consuming and problematic if you don't have the admin rights on your work machines.
We ensure that the laptop is wiped of all data when it is returned to us, in case you forget to do this, so your data remains secure and isn't accidentally passed on to the next user.
The laptop comes complete with a tough Peli case for easy and secure transportation.
Please note this item is just for the rental of the laptop, ID Card printers must be selected separately.
The hire charge includes return shipping so all you need to do is tell us in the comments field of your order where you would like it to be collected from and any special instructions for collection and we will arrange for a courier to collect it at the end of the rental period. Should the laptop not be returned to us by the end of the agreed rental period, or is not available for collection by our courier on the agreed date, then the daily rate will continue to accrue. If the equipment is not returned to us within 30 days of the agreed return date then the full RRP will be charged on top of the rental cost.
About CardExchange™ Producer Ultimate
Top Level Inline Encoding Solution
CardExchange™ Producer Ultimate gives you all the features of Card Exchange Premium with the additional functionality of unlimited database connections and card encoding.
Our 7 Day Rental Licence allows you to benefit from this software without the financial outlay of a full licence. You can save your card designs on a local machine ready for use with CardExchange software in the future. Ideal if you run the same event year on year and want a similar card design or have annual enrollments or re-issuance of ID cards.
To see the complete specifications and comparisons of all software editions click here
​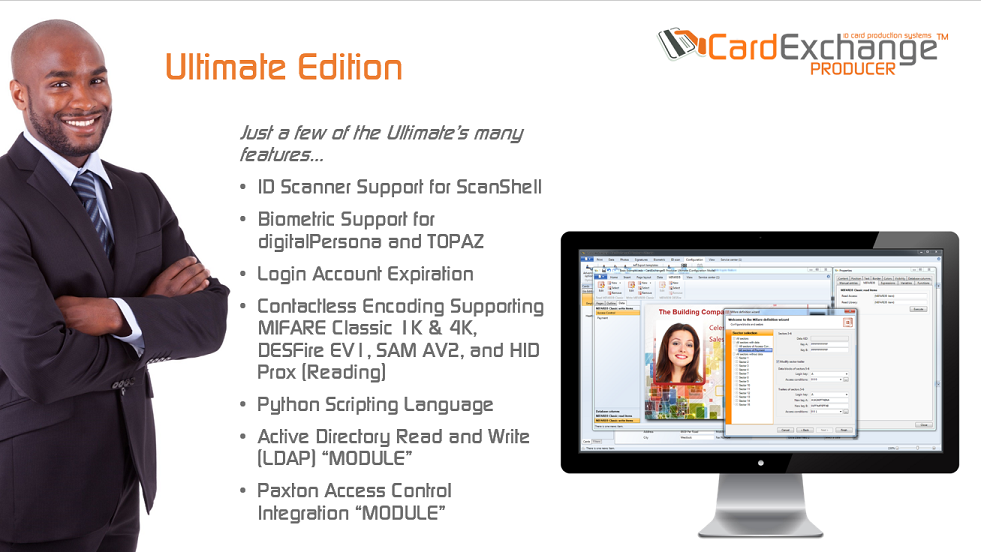 For chip and contactless card encoding, including MIFARE® Classic and DESFire, you will need the Ultimate edition.
Unlimited access to all the available functions of CardExchange™ - no limitations!
Unlimited database server connections
Push and pull data between databases
Contactless encoding functionality - MIFARE® Classic and MIFARE® DESFire including EV1 support
Store biometric templates and images to support multiple biometric devices
Fully customisable using Python scripting language
CardExchange™ Specifications

CardExchange™ Features

Windows XP, Windows Vista, Windows 7, Windows 8 (32 and 64 bit)
Internet Explorer 6 or Higher
Microsoft .NET Framework 4.0
Dual Core Processor
1024 MB Internal Memory
200 MB Free Disk Space
Internet Connection (license activation and online help files)

FREE Lifetime Updates

FREE End-User Support Forum

Local and centralised network licenses

Centralised data management (SBS)

Card Creation Wizard

Multiple Layouts

Ghosting, Background Removal

1D and 2D Barcodes, Magnetic Encoding

UV Panel Printing

Twain and DirectShow Support

MS Excel, MS Access, MS SQL, ODBC, etc.

Multiple Database Connections (Push-Pull)

User Authorisations with Login Feature

Drop Down Menus

MIFARE® Classic, DESFire EV1, SAM

Biometric Support

ID Scanner Support
Why Choose ID Card Centre?
At ID Card Centre, we genuinely care about our customers. Whether you're purchasing for the first time or one of our many long-standing clients. When purchasing with us, our guarantees to you are:
• All in stock orders when placed before 3pm will be shipped the same day.
• We guarantee 100% satisfaction or your money back.
• Price match guarantee on all our products.
Still unsure? Contact us today through our live chat or call us on 01604 422 422.
Delivery Promise

Fast, Reliable, UK Next Working Day Delivery - free on web orders over £150!
All orders for stock items, received prior to 3.00pm, will be dispatched the same day. It may still be possible to dispatch orders after this time so if your order is urgent please call us to check.
Best Price Guarantee!
We endeavour to always offer the best possible prices to our customers. Therefore if you've received a cheaper quote elsewhere, for exactly the same product or service, please let us know and if we can't beat it we'll price match it!
Buy with Confidence - 100% satisfaction guaranteed!
Our extensive product experience, honest advice and technical support along with our price match promise, low cost and fast delivery options and hassle free returns means we're sure you'll be more than satisfied with the service from ID Card Centre!
Flexible, secure payment options
We offer four secure payment options for all web orders.
All Major Credit and Debit Cards including American Express
Bank Transfer
Invoice
PayPal
| | | | | |
| --- | --- | --- | --- | --- |
| Service | Delivery Times for UK | Delivery Times for Europe | Delivery Times for Asia | Delivery Times for USA and the Rest of the World |
| UPS Standard | Next business day Flat rate of £6.50 + VAT per web order, free on orders over £150 | 2 - 3 business days from despatch | Not available | Not available |
| UPS (Express) Saver | Next business day by 12pm | Next business day delivery | 2 - 5 business days from despatch | 1 - 2 business days from despatch |
| UPS Express | Next business day by 10.30am | Next business day by 12pm | 2 - 4 business days by 12pm | 1 - 2 business days by 12pm |
| UPS (Worldwide) Express Plus | Next business day by 9am | Next business day by 9am | 2 - 4 business days by 9am | 1 - 2 business days by 9am |
Shipping amounts for all UPS services other than our Standard Flat Rate shipping are calculated on weight and volume at the checkout.
If you need same day or weekend delivery we may be able to arrange this so please contact us before placing your order.
Returns
If you want to find out information about our returns policy then click here.
CardExchange™ Producer Edition Features
GO
Premium
Professional

Ultimate

License and Network Features
Local Licence Via Activation

Design Tools and Functionality Features

Various Card Sizes

CR80 Only

All Sizes
All Sizes
All Sizes
Add Card Templates
5
Unlimited
Unlimited
Unlimited
Pre-defined Templates
Card Template Manager
Step-by-Step Card Design Wizard
Text, Image, and Drawing Objects
Content Alignment Tools
Border Object Features
Ghosting Images
Image Opacity Masking
Resize Font to Fit Feature
1D Barcodes
Manual Data Entries
Grouping of Templates
-
Background Removal
-
2D Barcodes
-
Export Card Preview
-
Automate Manual Insert Actions
-
Unlimited Layouts per Template
-
-
Python Scripting Language
-
-
-

Printing Features

Print to Windows Printers
Single and Double Sided Printing
UV Panel Printing
-
Batch Printing
-
Windows Print Manager
-
Print Production Reports
-
Auto Print Server
-
-

Photos, Signatures, and Image Features

Image Tools Editor
Import and Export Images
DirectShow Webcam Support
Twain Image Acquisition
Canon Camera Support
Copy and Paste Photos
-
Advanced Photo Options
-
Signature Pad Support
-

Copy and Paste Signatures

-
Advanced Signature Options
-
Automatic Face Recognition
-
-

Database Connectivity

Internal Database

200 Records

Unlimited
Unlimited

Unlimited

MS Excel Connectivity (all Office Versions)
-
CSV and Text DB Connectivity
-
Paradox Connectivity
-
MS Access Connectivity (all Office Versions)
-
MS SQL Server Connectivity (native)
-
-
Oracle Connectivity (native)
-
-
MySQL Connectivity (native)
-
-
DB2 Connectivity (native)
-
-
SQ Lite
-
-
ODBC Connectivity
-
-
Active Directory Read and Write (LDAP)*
-
-
-

M

Data Management Features

Pre-defined Database Templates
Database Record Edit Window
Enhanced Data Record Presentation (Datagrid)
Record Column Filter and Sorting
Store Photos in Database
Add, Update, and Delete Database Records
Store Signatures and Images in Database
-
Automate Record Insert Options
-
Store Global Counters in Database
-
Store Print Counters in Database
-
Store Environment Variables like Username and Login in Database
-
Drop Down Menus with Fixed Values
-
Create and Store Database Filter Per Template
-
Create and Store User Specific Record Lookup Filters
N/A
5
Unlimited
Unlimited
Live Database Record Lookup Filter
-
Database Column Management (Visible, Editable)
-
Advanced Primary Key Options
-
-
Advanced Update/ Insert Options
-
-
Advanced Error Behaviour Options
-
-
Create Internal Views/ Queries
-
-
Drop Down Menus with Database Table Lookup
-
-
Multiple Database Server Connections
-
-
Store Production Data in Multiple Connected Databases
-
-
Store Photos, Signatures, and Images in Multiple Databases
-
-
True Live Push-Pull Database Records
-
-
Create Column Requirements for Inserting/ Updating Records
-
-
Create Column Requirements for Record Printing
-
-
Prompt Value before Printing Records
-
-

Application Security Features

Login Feature
-
Create Users
N/A
5
Unlimited
Unlimited
Create User Groups
N/A
3
Unlimited

Unlimited

Create User Group Profiles
-
Assign/ Remove User(s) To/ From Groups
-
Temporary Block User(s)
-
Hide Functionality for Group(s) / User(s)
-
Hide Card Templates for User(s) / Group(s)
-
Hide Database Information for User(s) / Group(s)
-
Advanced Fraud Protection Mechanism
-
Create Specific User Profiles
-
-
-
Account Password Expire Feature
-
-
-

Encoding Features

Magnetic Encoding
HID® Proximity Reading
-
-
-
MIFARE® Classic 1K and 4K
-
-
-
MIFARE® DESFire EV1 (all memory formats)
-
-
-
MIFARE® SAM AV2
-
-
-

ID Scan Features

Store and Print Image
-
-
-
Store and Print Photo
-
-
-
Store and Print Signature
-
-
-
Store and Print OCR
-
-
-

Biometric Features

Enrollment
-
-
-
Verify
-
-
-

Access Control Features

Paxton Access Control Read and Write*
-
-
-

M
* M: Available as Additional Module
Laptop with CardExchange Ultimate for use with ID Card Printer - 7 Day Rental